A tale of two stocks and a tale of two investors that, we believe, demonstrate the sometimes illogical nature of perceptions and how those perceptions can drive valuation.
The stocks are BioMed Realty Trust (BMR) and Alexandria Real Estate Equities (ARE). They are the only two public companies currently focused on ownership of lab/life science space in the US. For the last two decades, they have had a duopoly in this real estate sector. Alexandria effectively gave birth to the industry in 1994, and BioMed's executives (who were former Alexandria executives) later followed suit. For many institutional investors they were interchangeable, although, as one would expect, both companies would be keen to point out differences and advantages. While lab/life science is a niche, it is a relatively sizable one. BioMed, at the time of its purchase by Blackstone in January 2016, was valued at $8 billion and Alexandria is currently valued at about $10 billion.
The two investors in our tale are: the stock market at large and Blackstone; and the crux of the story essentially revolves around valuation perception of these two.
Blackstone purchased BioMed and the deal closed at the end of January this year (the deal was announced October 8, 2015). They paid $23.75/share, which was 103.6% of the last consensus estimate of net asset value (NAV) published by SNL Financial. The characteristics of the companies are duopolistic with a limited supply of new space, cluster markets (all US inventory of this type of space is in six markets), barriers to tenants moving out, and secular demand drivers. So Blackstone's calculation that it was worthwhile to pay a slight premium for BioMed to enter the business was very logical, in our opinion.
Blackstone is currently among the largest buyers of real estate in the US, and, based on our experience (they purchased Excel Trust, a public shopping center company with whom I served as an independent director), we believe Blackstone is both sophisticated and thoughtful, thinks for the long-term, and is not prone to overreaction.
Flash forward to February 29, 2016 (the time of this writing) from last October when the BioMed deal was announced. As shown in the chart below, the remaining public company, Alexandria, is now trading at 76% of consensus NAV, which is approximately 1.6 standard deviations cheap. The market price of the shares have tracked closer to NAV more than 95% of the time over the last 10 years (the average valuation over the last 10 years—including the Great Recession—is 97% of NAV). Also, if we remove the Great Recession, the shares have never traded this cheaply. So Blackstone thought Biomed was worth 104% of NAV but the stock market thinks Alexandria was worth 76% of NAV. Between the two companies, in our opinion, Alexandria has the better portfolio as evidenced by the fact that Alexandria's average same-store net operating income growth has been about 33% greater per year than BioMed's for the past 10 years of reported data (40 quarters Q4-2005 to Q3-2015; the average annual same-store net operating income growth for ARE was 5.39% and BioMed was 4.06%). This makes no sense to us that Alexandria would trade about 28% cheaper than BioMed.
The public markets seem to have become caught up in a hailstorm of short-term, confusing and frequently false data reads. China, the Fed, interest rates, et cetera, have caused a significant disconnect in public market perception. Given the discrepancies between what Blackstone thinks about value and what the market seems to think, we think Blackstone is more likely correct.
ARE Market Price/Estimated NAV per Share
February 28, 2006 – February 29, 2016
In the last 10 years, 95% of the time, shares have traded above Feb 29th's price to net asset value.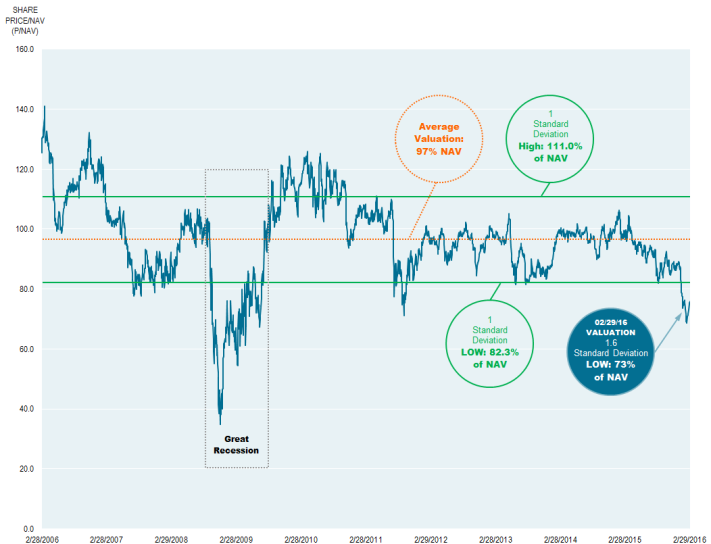 Data prepared by AACA, compiled from SNL Financial
This material is for information purposes only and its content should not be relied upon in making any investment decisions. The information provided is not a complete analysis of the market, industry, sector, or securities discussed. While the statements reflect the author's good faith beliefs, assumptions and expectations, they are not guarantees of future or actual performance. Furthermore, American Assets Capital Advisers, LLC ("AACA") disclaims any obligation to publicly update or revise any statement to reflect changes in underlying assumptions or factors, or new information, data or methods, future events or other changes.
 The author's assessment of a particular security is not intended as research. This commentary and the information contained herein is not, and does not constitute, directly or indirectly, a public or retail offer to buy or sell, or a public or retail solicitation of an offer to buy or sell, any fund, units or shares of any fund, security or other instrument, or to participate in any investment strategy. All data in this document, including that used to compile performance, is obtained from sources believed to be reliable but is unaudited and not guaranteed as to accuracy. The performance data cited represents past performance, which does not guarantee future results. The securities discussed are for illustrative purposes only and do not represent all of the securities purchased, sold or recommended for advisory clients. The reader should not assume that any securities discussed were or will be profitable.